The Gothaer Digital team has been based on the InsurLab Germany Campus since September 2018. The team grew in October 2019. Sören Heinzmann, CEO of Gothaer Digital, and his team answered questions for our interview and gave us some insights into the working world of his team, in which not only the cathedral view plays an important role.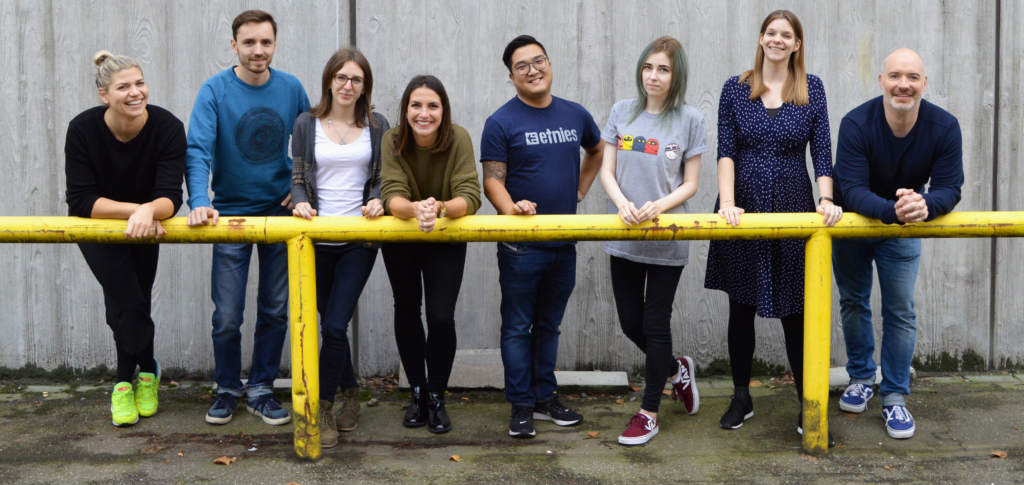 What exactly does Gothaer Digital do? – Introduce yourself gladly
Sören: We are an idea laboratory and prototype workshop for digital solutions to a wide range of problems. We test new technologies and models for the parent company in various areas. As a service provider for Gothaer, we make digital projects a success or improve existing processes by accelerating them or simplifying them for the user.
What is your focus and what are your projects?
Sören: Most recently, we have handled projects in the area of health insurance, for example developing new apps and ideas for new training and consulting tools. We also conduct workshops within the Group, for example on design thinking. We provide ongoing support for projects that have already begun and show our colleagues in the Group new digital approaches that make their working lives easier.
How does your work relate to that of Gothaer?
Sören: As Gothaer Digital, we are firmly integrated into the Gothaer Group despite our freedom and independence. The enquiries come directly from the various divisions. The colleagues there are grateful for our support in Gothaer's digital projects. We work virtually in tandem with the specialist departments and put together an individual project team from our ranks to meet the requirements.
How do you want to develop further?
Sören: It is important to us externally that it is transparent for our colleagues in the Group in which areas or tasks we can support them and on which topics we are currently working. Of course, the challenges grow internally with the size of our team. It is important to us that we create optimal onboarding for our new colleagues so that they settle in well with us and we grow together as a team.
Your team has grown in recent months, what makes you special as a team? What strengths/skills do you have?
Sören: Our team has grown strongly over the last few months. Especially in the areas of design and UX, but also in development, we have been able to win great new colleagues for us. We hope to welcome even more new colleagues in the coming months. In our job offers we like to write "Startup Spirit with Group Power" and I think that this sentence fits the core well. At Gothaer Digital, as an employee you have a lot of freedom for your development, but also the corresponding opportunities that make this possible. That is particularly important to us.

How long have you been on the InsurLab Germany Campus & how did you get here?
Sören: Since our foundation in 2018, we have been located in the InsurLab and now "occupy" two offices on the upper floor. The location was deliberately chosen at the time so that we could keep a fresh eye on things and bring even more new impetus and thought-provoking ideas to the Group by exchanging ideas with other start-ups and companies.
What makes the campus "special" for you, what could you "recommend" to others?
Sören: The InsurLab is very relaxed and friendly. It's fun to work here. We also have our finger on the pulse of the industry and have direct access to events and workshops. The premises are modern and flexible – with retreat possibilities and flexible workstations. Another highlight is of course the large roof terrace with a panoramic view over the roofs of Cologne. We have already spent numerous lunch breaks on a Fatboy in the sun with cathedral view.

What added value can you derive from "campus life"?
Sören: Networking is a very great added value for us. Digitalisation makes the world turn faster than ever before and cooperation is an important success factor for the future. That's why we really appreciate the exchange with start-ups and other companies. In this way, we always get new ideas for cooperative approaches that can improve the customer experience or simplify internal processes.