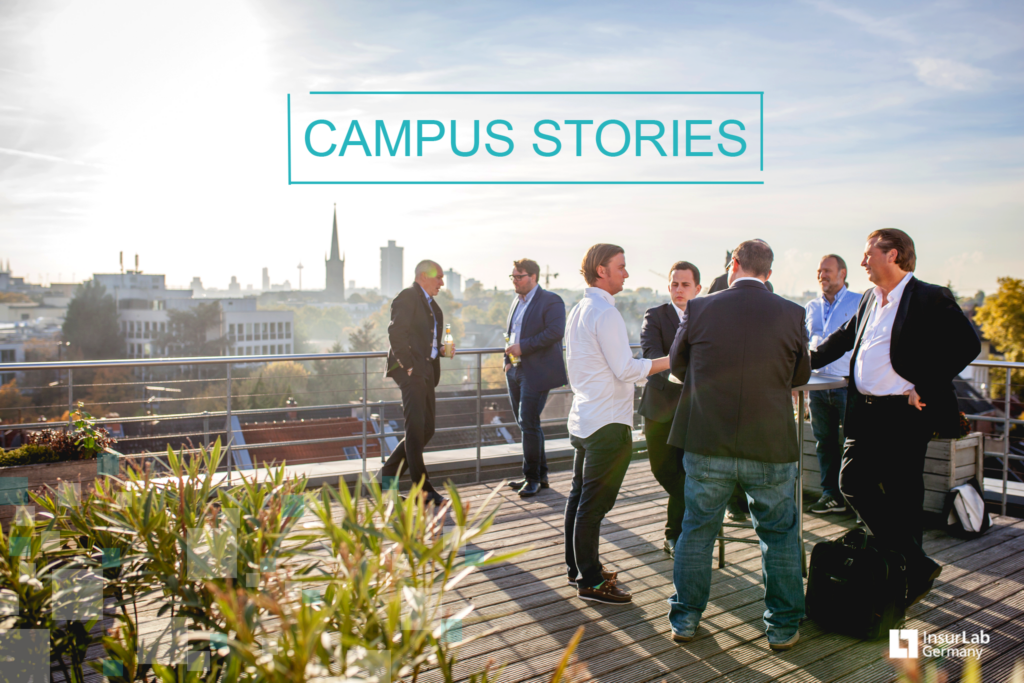 10. December 2019
Campus Story ROLAND Schutzbrief
Campus life on the Carlswerk in the middle of Cologne-Mülheim.
The Roland Schutzbrief has been one of our members for a long time and we are happy to count it among our tenants on the InsurLab Germany Campus since September 2019. Anja Öztas introduces the Roland Schutzbrief in an interview and talks about "life" on campus.
What does ROLAND generally stand for?
Anja: ROLAND stands on the one hand for a traditional company with a lot of experience in the fields of legal protection, assistance and Schutzbrief. On the other hand, it also stands for a very modern company that constantly aligns its offerings to the needs of its customers. The ROLAND Group, headquartered in Cologne, has around 1,500 employees and gross premium income as well as sales revenues of over 530 million Euro.
What does ROLAND Schutzbrief stand for?
Anja: The ROLAND protection letter insurance AG, created 1978, offers innovative insurance concepts to the emergency assistance in everyday problem situations. The aim is to organise immediate practical help for the customer through the variable combination of various service modules and to bear the costs for this. ROLAND Schutzbrief - equipped with the latest communication technology and professional know-how - accompanies customers around the clock all over the world. The ROLAND statistics prove how helpful and important Schutzbrief services are in daily life: ROLAND Schutzbrief processes more than 74,000 claims annually. On peak days, such as at the beginning of the peak travel season, there are up to 500 calls daily.
What do you offer your customers as a ROLAND cover letter?
Anja: We offer our customers a wide range of optimally coordinated products to secure their professional and private mobility. Our goal is to make it possible for our customers to travel without worries.  The customer receives protection and service in areas such as travel, health, real estate, the Internet and mobility. In addition to financial assistance in emergencies, the range of protective cover offers tailored to needs also includes a broad range of services. The range of services offered in the areas of mobility, emergency assistance and service logistics goes far beyond the classic car cover. ROLAND Schutzbrief accompanies its customers around the clock all over the world.
That sounds diverse and exciting. What is your team like - which areas do you cover?
Anja: Our team is an interdisciplinary team with colleagues from a wide variety of company divisions - from product development to controlling. Together we cover essential parts of the value chain and optimize existing cover products or develop completely new solutions.
How did you get to the InsurLab Campus?
Anja: As a newly founded team, we wanted to adopt new perspectives and therefore work away from the ROLAND headquarters. That's why we moved from Deutz to the STARTPLATZ in Cologne for the first time in May 2019. Since ROLAND already cooperates with InsurLab, we decided a few months later to move to InsurLab.
What makes the campus "special" for you, what you could "recommend" to others? What added value can you derive from "campus life"?
Anja: First of all, the environment in the Schanzenviertel is simply great. The InsurLab offers very nice and modern rooms with many retreat and meeting possibilities. Another advantage is the proximity to our industry. There are a large number of events in the insurance sector here, and we are also very close to various insurance start-ups. Last but not least, we are on campus away from the usual events. This is an ideal prerequisite for taking on new perspectives from time to time.