Already at the beginning of the Accelerator Batch, R+V's strategic customer data management department was able to identify common usage scenarios and synergies with Complero. The implementation and go-live took place in a few weeks and has since delivered many updated and completed customer data on a weekly basis.
Background of the collaboration
The initial contact between R+V and Complero came about at the start of participation in InsurLab in Batch 20. In the course of the accelerator program, various use cases and application scenarios were developed together, which then had to be implemented as efficiently as possible in the existing IT landscape. The go-ahead for the collaboration, combined with the first data updates, followed within a few weeks.
The process
The collaboration of Complero with R+V has been very positive and always solution-oriented. Agility has played a central role in this. Structures and processes were adapted to the objectives at all times. Complero benefited in particular from the modern and agile IT structures within R+V.
The solution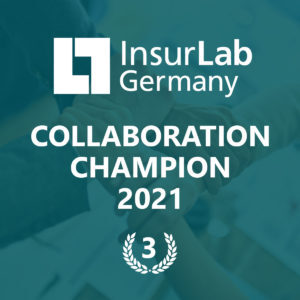 Complero was able to connect its proprietary artificial intelligence to R+V's system through a jointly developed interface. Thanks to this integration, it can identify which contact data is outdated. Complero's self-explanatory mobile-optimized design allows customers to view their existing data and change it very easily. The collaboration has given them an important insight; the establishment of a value-based approach that ensures our customers achieve a 10-fold return on investment.
"R+V has given us the opportunity to check and update a large number of customer master data. In addition, we were able to improve processes based on customer feedback. It's a win-win situation for R+V, Complero and the end customers." Steffen Schneider, Co-Founder @Complero
The outlook
Together, R+V and Complero have already completed over 20,000 updates. They strive to provide our customers with excellent customer service, to constantly expand our product with new features and are looking for further ideas and connecting points. Together with R+V, Complero is planning several exciting projects in the future. The topic of chatbots will move into focus, they would like to automate the responses to email bounces and expand their own dashboard access.
"Complete and correct customer master data is essential for our business success. By cooperating with Complero, we were able to significantly improve our data quality. And we have learned a lot from each other in an agile environment!" Adrian Ritter, project manager Customer Data @R+V