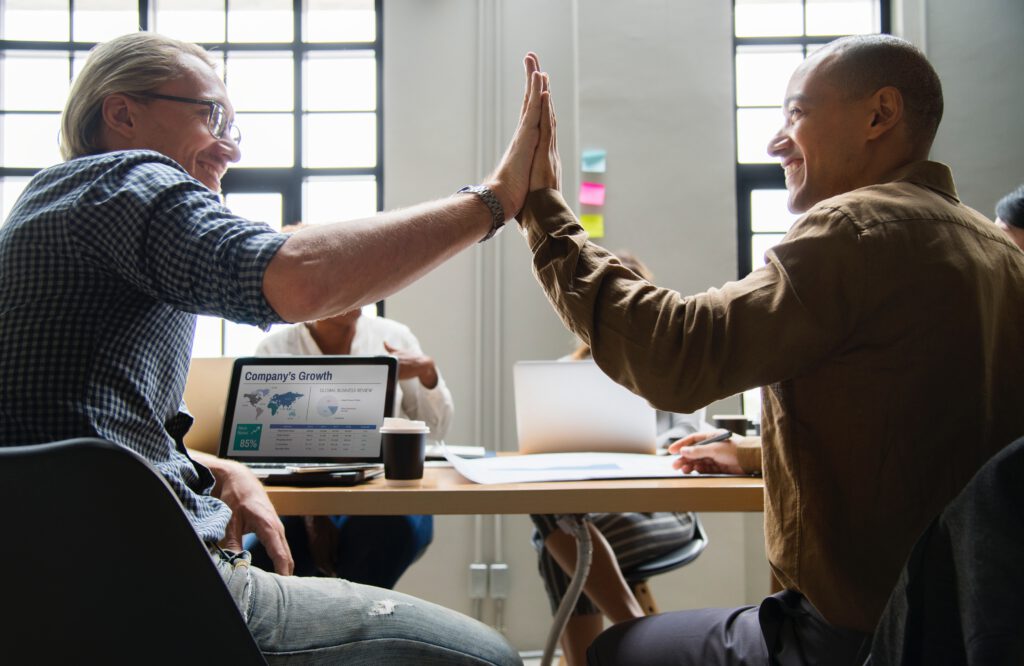 25. February 2019
Five Tips for Collaboration: The Corporate-Startup-Relationship
KASKO is one of our Batch '18 Accelerator-Startups and has worked with a lot of major insurers across Europe by now. Today they share with us 5 essential tips for successful collaborations between corporates and startups.
Over the past few years, KASKO has worked with a lot of major insurers across Europe. We provide 'Insurtech-as-a-Service', supporting the development and distribution of new insurance products from start to finish in four weeks on average. Far faster than the average development time for a new product within a corporate that usually takes 12-18 months.. Since founding KASKO in 2015, we've learned a fair amount about the Corporate - Startup relationship, one that exists across all industries, and often with the same problems.
The two different staged companies have very different ways of working, and these can often lead to friction and miscommunication. What works for a corporate, does not always work in a startup, and vice versa. To build a successful partnership you need to learn to communicate openly, understand the needs of each other, and learn to compromise through negotiation. I wanted to share our five tips for successful collaboration.
1.Take care of your champion
In business, it's important to know who you can trust and who will likely help you along the way. This is your champion. Someone that gets what you're both trying to achieve and understands the internal structures of your new partner. These champions are the ones that will go to bat for you when you need a little push. The best thing you can do for them is to get them whatever they need, so they can make your case to those that can help drive the project forward.
 2.Understand your partnership structure
Just because you have a new partnership, doesn't mean that you don't get paid for your time. If you're the little guy, it's still important to put a value on your time. Even if that is just a cost plus value because you're taking time away from running your business to try and solve your partner's problems. This means that you should also take the time to understand the business case. If it makes sense and if it will bring value to both sides of the partnership. Once you've done that, you need to cap your upside spend. That means controlling what you put into the project and ensuring that it isn't a money pit. And as I said before, take care of your champion. While it's very important to fight against scope creep, you need to give your champion enough so that he/she can turn to the board and say that they've experimented, but didn't overspend.
3. Be a professional
Especially on the startup side, it's easy to slip into a more casual way of working. That's fine for startups but might not instil confidence to the board of a large corporation. Outside of looking like you belong, it's extremely important to walk the walk. You set the delivery date and stick to it. If that isn't going to happen, let them know the minute you know. Let them see your processes. This will help create trust on both sides.
4. Transparency is the key to communication
When dealing with stakeholders, it's important to be transparent. It helps to build goodwill and creates a shared team. A drive from both sides for the project to succeed. Think about it, if you hit a milestone ahead of schedule, that's great! But if you miss another one, people will be disappointed. However, If your partner knows about each instance in an open and clear way, they would be more willing to overlook the small setback, because the trust has been built up.
Honesty is good, transparency is even better.
5. Do what you say you're going to do
This is pretty cliche and obvious to everyone, but it should be included lest we forget. The biggest factor in any relationship is managing expectations. If you go in there with all kinds of unrealistic goals to try and impress, your partner will hold you to those. It's important to stay realistic about what is possible. If you over-promise, your client could end up unhappy and your team too. They are the ones that will be trying their hardest to pull a rabbit out of the hat. If you negotiate a little buffer in your plan, not only are you setting your team up for success, but it also gives them the chance to dazzle your new partner. The goal should be to underpromise and overdeliver. It's a straight forward way to reach a win-win situation.
You want to know more about KASKO? Visit their website here!