For the second year in a row due to the pandemic, we welcomed our members yesterday to the virtual annual kick-off event (see also our press release) to review 2021 and give a first outlook on the topics, highlights and strategic direction for 2022.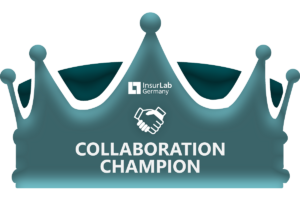 In addition to a review of the general development in the past year and a presentation of the results of the member survey, "Collaboration Champions" were also presented for the first time at the kick-off. With this newly created award, the industry initiative annually honors success stories that have emerged among its members through collaboration between different companies based on networking through InsurLab Germany.
"With the Collaboration Champion Competition, we have created a format that promotes collaborative success stories between our members and gives them more visibility. This also allows us to further expand InsurLab Germany's communication of success", says Sebastian Pitzler, Managing Director of InsurLab Germany.
Our Collaboration Champions 2021:
In addition, there was a special award for the special social significance of the collaboration between IBM and UBIRCH GmbH in the context of the development of the digital vaccination certificate.
Congratulations to all award winners! You are true COLLABORATION CHAMPIONS and can be proud of yourselves!
In 2022, we will again be looking for new collaboration champions among our members – maybe you will be one of them?
Then take a look at this page!