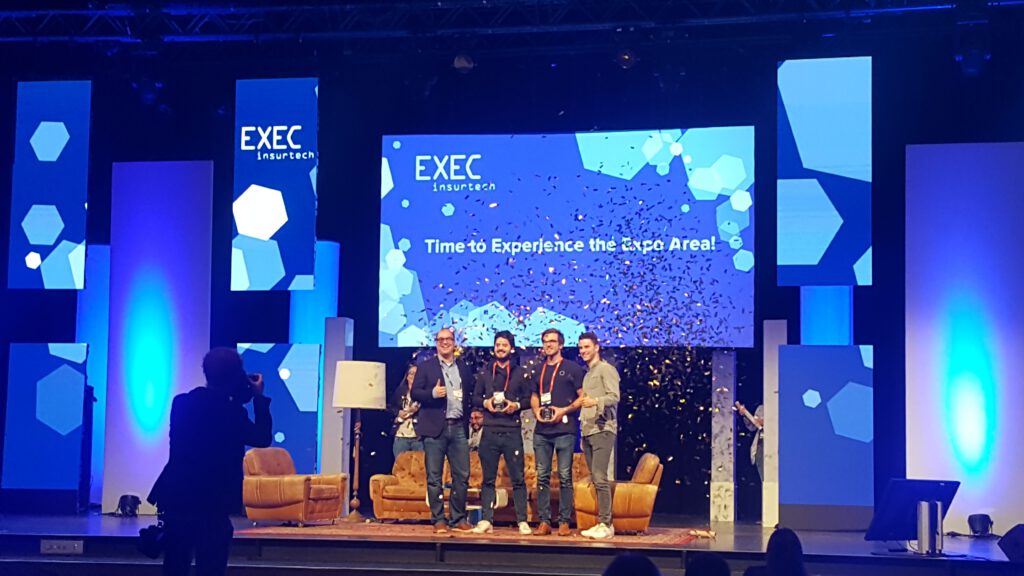 26. November 2018
InsurLab Germany honours luminovo.ai and e-bot7 with "Insurance Shaper of the Year" Award 2018
(press release) At this year's EXECinsurtech start-up conference in Cologne, the "Insurance Shaper of the Year" award was presented by InsurLab Germany for the second time. Luminovo.ai was awarded in the category "Seed Stage", the chatbot provider e-bot7 in the category "Early Stage". Both can now look forward to the intensive support of InsurLab Germany. EXECinsurtech attracted more than 500 participants this year.
InsurLab Germany awarded the "Insurance Shaper of the Year" award at the EXECinsurtech conference in Cologne for the second year in a row. More than 50 startups applied for this award. A total of 15 were given the opportunity to pitch live on stage at one of the largest Insurtech conferences in Europe and to face the juries. In the "Seed Stage" category, luminovo.ai - a young provider of Artificial Intelligence solutions from Munich, founded by German graduates of Stanford University - was convincing. With the victory, they receive a firm place in the next Accelerator Round of InsurLab Germany, which will begin in May 2018. E-bot7 convinced the jury with a sophisticated chatbot solution based on artificial intelligence. As winners in the "Early Stage" category, they will receive a venture capital trip to Berlin, London or Tel Aviv, as well as exclusive access to the InsurLab Germany member network.
"We are already looking forward to working with luminovo.ai and e-bot7. Both young companies have developed promising solutions, which we will promote within our Accelerator Program and with the support of our active members and network partners, in order to turn exciting innovation projects into reality", says Sebastian Pitzler, Managing Director of InsurLab Germany.
EXECinsurtech is an established networking platform for the international InsurTech scene
The pitch session and the award ceremony were part of EXECinsurtech 2018, which took place in Cologne from 21 to 22 November 2018. Over 500 decision-makers from the insurance industry, founders, VCs and service providers came together at the Tanzbrunnen in Cologne to discuss the digital future of the insurance industry in an inviting atmosphere and to be inspired by industry experts. More than 25 nationalities and 75 international start-ups were represented.
Oliver Schoeller, CEO of Gothaer Krankenversicherung AG, and Mark Klein, Chief Digital Officer of ERGO Group AG, sometimes gave very open presentations on how their companies deal with developments and trends and how they prepare for future challenges. Magdalena Ramada, Director & Senior Economist at Willis Towers Watson in Madrid, introduced the audience to the topic of Blockchain and highlighted the potential of this technology for the insurance industry. Philippe Lafreniere, Chief Growth Officer of Slice Labs in New York & Toronto, also explained how insurance companies must adapt to the needs of employees in a so-called "gig economy" and what this transformation could look like.
In addition, experts shared their knowledge with the participants in numerous master classes and actively participated in the often controversial discussions, which took place both at the discussion tables provided for this purpose and in the generous networking area.
Robbie Bouschery, Managing Director of PIRATE and Head of EXEC, sums up: "It is great that we were also able to successfully host EXECinsurtech in 2018 as an important event for networking classic insurance companies and the international start-up scene. Above all thanks to the support of our partners InsurLab Germany and the City of Cologne. In discussions with participants, I again became aware of how important it is for insurers to work together to adapt to the major changes within the industry and to connect with potential partners. We are proud to establish a relevant exchange platform for this purpose".
About EXECinsurtech
EXECinsurtech is a conference focusing on innovation & technology in the insurance industry with a special focus on bringing together start-ups, large financial and insurance groups and investors. It took place for the fourth time in 2018, after editions in Cologne 2016 and 2017 and Berlin 2017. The event is a spin-off of the two conferences PIRATE Summit and EXECfintech. More information: https://execinsurtech.com
About PIRATE.global
PIRATE.global (Jolly Roger UG) is a Cologne-based company specializing in the organization of extraordinary technology and start-up conferences. The 20-strong team has been organizing the PIRATE Summit since 2010, which over the years has gained the reputation as one of the best tech events in Europe. Additionally PIRATE organizes the conferences EXECinsurtech and EXECfintech and is responsible for the concept Startup SAFARI. Since 2018, they have also been supporting other companies through PIRATEx in organizing conferences and events related to the startup scene. More information: https://pirate.global
About InsurLab Germany

InsurLab Germany is a platform for networking insurance companies and start-ups that develop digital products and services for the insurance industry. The industry initiative 2017 was founded by the City of Cologne, IHK Cologne, University of Cologne, TH Cologne as well as established insurance companies and InsurTech startups.
The goal of InsurLab Germany is to provide insurance companies with easy, direct access to national and international start-ups and to actively support them in planning and implementing joint projects in order to transform and digitize the German insurance industry in a sustainable manner.
As one of twelve hubs in Germany, InsurLab Germany is part of the "de:hub" digital hub initiative set up by the Federal Ministry of Economics and Energy and is the official competence location for Germany's InsurTech scene.