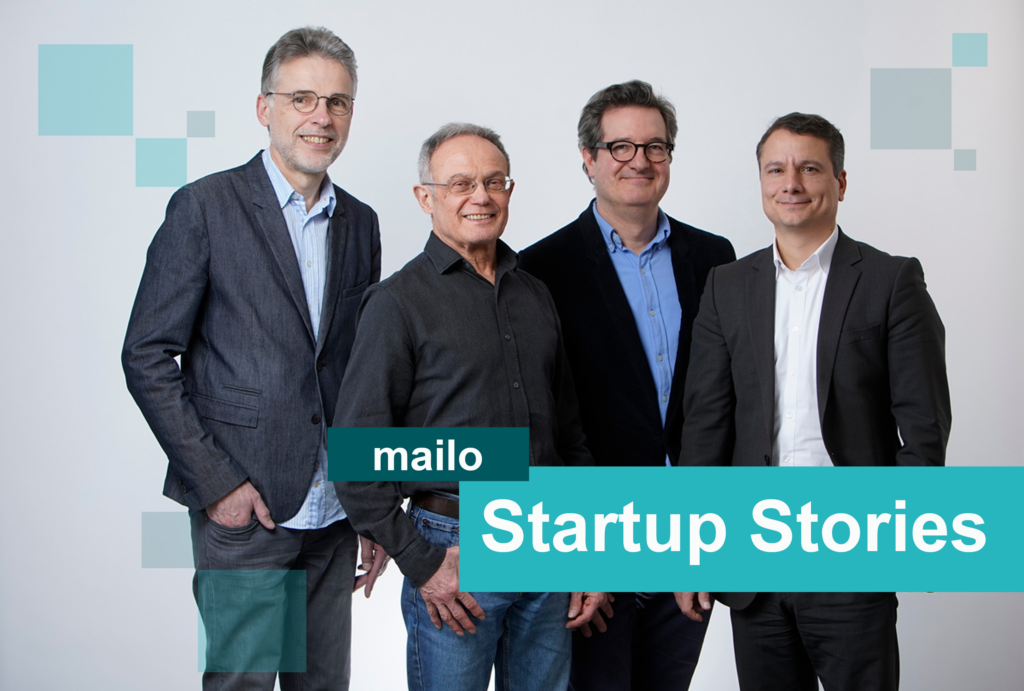 19. March 2019
Mailo receives BaFin license | InsurLab Germany in an interview with the founders
Two years ago, Sten Nahrgang, Armin Molla and Dr. Matthias Uebig founded the startup "mailo" - a commercial insurance company for the self-employed and small businesses. They were recently able to announce that they have now received the BaFin licence.
In  this interview, the trio tells us how the path to the BaFin licence developed, what they can now offer their target group and what goals they have set themselves for 2019. In addition, they also have a clear tip for founders who are also hoping for the BaFin license.
What is behind "mailo Versicherung AG"?
Sten Nahrgang: mailo is the new business insurer for the working world 4.0 in Germany. We are building the commercial insurance of the future for freelancers, the self-employed and small businesses as they need it: simple, digital, flexible. And that's exactly how we want to insure them. Whether blogger, online trader or start-up: we know the risks of our target customers and insure them precisely.
mailo is a young and highly innovative insurance company, backed by a network of strong, established and experienced partners and investors. On the one hand, there are the renowned reinsurers Munich Re and Deutsche Rück, who support mailo with their expertise as well as a tailor-made reinsurance programme. On the other hand, mailo has been able to attract financially strong entrepreneurs who bring in private capital and their entrepreneurial experience.
You have now received the BaFin licence. How did you find your way there?
Dr. Matthias Uebing: The road to obtaining the BaFin licence was, of course, very labour-intensive. But this intensive work was absolutely necessary and prepared us perfectly for the market launch and the operation of an insurance company. In the course of the approval process, we got to know BaFin as a very objective and critical, but also constructive discussion partner who thinks of the customer and the market. Our impression was and is that BaFin - despite the persistent factual and technical discussion - was sympathetic to our project. And: the alleged necessity of the "delivery of a truck load of documents" is a myth. Of course there are a number of documents to prepare, from strategy papers, guidelines, a business plan to contracts with future business partners. However, the focus of the approval process is clearly on the soundness and quality of the documents submitted, which require seriousness and a lot of work.
What exactly do you offer your target group?
Armin Molla: mailo is entering the market with a very clear concept: 100% commercial business with a focus on freelancers, the self-employed and small entrepreneurs.
We want to solve problems for our customers. And we know from experience that many of them are underinsured because they cannot find a suitable insurance solution. The insurance needs of these customer groups have changed significantly in recent years. Experts assume that up to 50% of the risks threatening the existence of this segment are not adequately insured.
At the same time, the freelancer and self-employed segment is growing very strongly. In the course of digitalisation, completely new professional worlds are developing, with new risk profiles. Our customers are more concerned about a warning, a cyber attack or a violation of the DSGVO than about a classic fire or water damage.
It is our aim to offer our customers all-round professional protection against loss of their livelihood - public liability, financial loss liability, property content, cyber and legal protection. Our offer can be adapted quickly and easily to suit your needs and can be completed fully digitally.
Our first products for the market launch are tailor-made insurance solutions, which we design using appropriate methods. In order to really understand the wishes and needs of our customers, we work with design thinking approaches. In this way, we really build tailor-made solutions. These can then be purchased either as "complete solutions" - as multi-line products - or individually, depending on the customer's wishes. In addition, our products can be cancelled on a daily basis and, thanks to their modular structure, can be easily and transparently integrated into any existing insurance situation.
In cooperation with partners, we also offer services that go beyond pure insurance, such as our Quick Check for DSGVO compliance.
What will 2019 offer you, what is planned?
Armin Molla: After the BaFin approval, in 2019 we will fully dedicate ourselves to our target customers and sales partners, as well as to the improvement and further development of our technology and organization. We have ambitious growth targets in terms of acquiring sales partners, target customers and premium income. By the end of the year, we intend to position ourselves with our target customers and sales partners as a customer-, performance- and service-oriented service provider and trade specialist. Only if our target customers and sales partners perceive us so positively will we achieve our ambitious growth targets and create a genuine win-win-win situation: for our customers, for our partners and for mailo as a brand and company.
What tips do you have for founders who are also pursuing the big goal of obtaining a BaFin license?
Dr. Matthias Uebing: Take a chance! If you have a good business model, with a good coverage of customer needs, a sound business plan, as well as a realistic outlook and a required guaranteed capital base, then dare! In the ideal case there is "only" an intensive work process between you and the approval, which is necessary anyway for the preparation of the market entry. Never try, never win.
What do you hope for in the future from InsurLab Germany and the cooperation with the members?
Sten Nahrgang: We hope that InsurLab Germany will continue to be a central point of contact and an active partner for the exchange with the industry, for gaining new ideas and partners and for networking in all directions. We are very pleased to have gained FINTLV, an Israeli partner from the InsurLab network, as an investor. We continue to look forward to such a fruitful exchange with InsurLab and the wider network.
FinTLV is a strong partner of InsurLab Germany and invested in mailo. Gil Arazi, Founder and Managing Partner at FinTLV, has known co-founder Sten Nahrgang for a long time and is very happy for him and the entire mailo team regarding the development of the start-up:
"From the first time I heard from Sten about the new initiative – mailo, I knew it would be a great success. I know Sten for many years since our time in Generali, and always admired his great achievements, business understanding and professionality. We have found the mailo team as a "dream team" of experts with a huge dream, but with strong "legs on the ground" and a significant delivery abilities. After completing our due diligence, we have found a great company with great values, fascinating business model and approach, and unique products for the European insurance market.
In addition, the synergies between mailo and FinTLV will enable us to work together searching for new technologies and markets for the company, the same as we are doing with our great partner InsurLab Germany. Hence, we were very happy to join as investors, in their series A round, and we see this as a very promising opportunity. We would like to wish the mailo team a great success!"