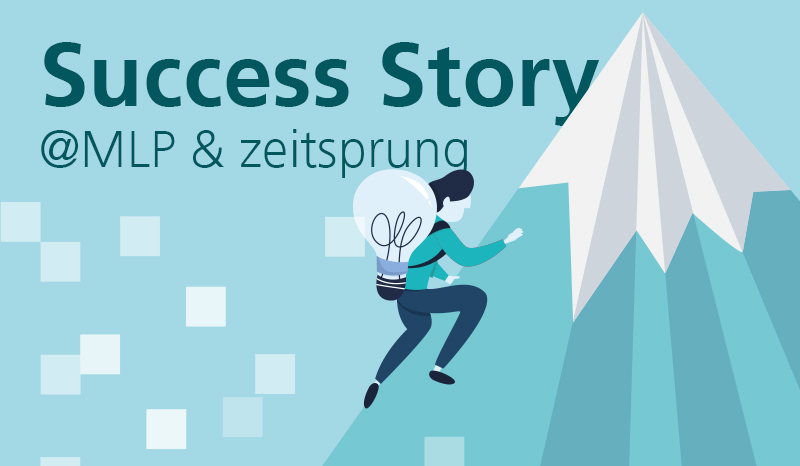 12. May 2021
MLP and zeitsprung Go Digital – A Process Automation Customer Success Story
Objectives in a fiscal corporation can vary: Growing existing business domains, developing in new markets, increasing customer loyalty or preserving service capabilities both in and outside the company. Now there's another one that has not been served: Rapid digitization – corona crisis does not spare the analog world.
MLP – the partner in financial issues: from asset management and retirement provisions to insurances. How can one envision communication of this large corporation with its customers, various insurance companies and external service providers? The extensive amount of conventional mail is a phenomenon that should be passé but it has not been long since MLP had lots of full-time employees examining and spreading incoming mail. Much earlier than other brokers, MLP began realizing individually solved interfaces for document management together with major insurers already in 2007. 100.000 documents were processed the next year. Soon MLP took on the industry initiative BiPRO e.V. thus became a wanted trailblazer for many insurance companies. Still insurers not offering standardizes nor individual interfaces despite progressive opportunities in digitization remained – they kept conventional mail or offered highly individual online platforms for by-hand document downloading. This self-service quickly became expensive for large brokers because surfing several platforms each day took too long. Time-consuming log-in processes including individual access data were followed by manual document downloading before subsequently spreading data over customer files. Despite all endeavor interfaces became a long-term challenge because insurers could not entirely fulfill the requirements.
This is where the "Zeitsprung" - translates time jump – happened: zeitsprung is a decisive move in the insurance industry because their software developers are bubbling over with visions of the industry's digital future. zeitsprungs' document service for instance can fetch online platforms offered by insurers highly automated as well as autonomously. Thus, it can provide many insurers' mail digitally. Besides these individual services insurance companies' standardized BiPRO interfaces are incorporated too. Documents downloaded there are being allocated in a unitary inbox – enabling receipt and automated further processing of insurers' electronic documents. More than 90 insurance companies are implemented in this document service according to BiPRO standards – growing continuously. Other sources of documents can be processed automatically too. In order that responsible employees get their daily mail without manual command, webservices and robotics services that retrieve extranets are used. Data is then consolidated together with its metadata in the unitary inbox before being redirected automatically by an intelligent set of rules. For guaranteeing correct mapping of documents with customers or insurance companies, the data has to exhibit specific metadata quality made available by the insurer. If they fail to do so the zeitsprung document service will enrich the metadata with the help of artificial intelligence in a way that efficient process flow can be maintained without manual intervention. PDF image files respectively document data can be assessed by complex OCR-technology to generate meta data, too.
Screening and regulation are further product components offered by the document service in terms of process acceleration. By individual filter setting one can specify which mail gets into the inbox so irrelevant information is being removed – that saves capacities and resources. Users can utilize the set of rules for adapting the service to company-specific processes. As an example, documents from various corporations, divisions or transactions can be processed sophisticatedly, document names can be changed, metadata can be enriched or adjusted so that they can be used for following intragroup processes. Due to high individualization the range of applications is enormous. For this purpose, a highly competent community has formed that is moderated by zeitsprung employees. Tried and tested rules and filters are concentrated knowledge that can be accessed in one central community app. Since MLP applies zeitsprungs' document service many things changed. Manuel Schmalz, division manager for data and commission at MLP, summarizes: "The outcome of our cooperation with zeitsprung is that our mail coming from the carriers is processed in our end system both fully-automated and mostly digital. Physical receipt of paper documents is on a historically minimal level thanks to joint effort. We do receive three percent of our carrier mail on paper while the rest is processed consistently and swiftly. That reduces costs and saves valuable time in a brokers' daily business."