2016, two friends and the desire to help shape the future. 2017, two founders, one idea and the step to drive the digital future of tomorrow. Five years later, two founders, one idea and a team of over 130 employees are shaping the future of today and tomorrow solely with an app and a specially developed technology. Nect Wallet, the digital wallet that simplifies everyday life and is set to become Europe's largest ecosystem.
An idea, a vision and a path paved by strong partnerships. Partnerships that gave Nect a colourful bouquet of opportunities to establish their idea and go live with the technology just one year later after founding.
In 2018, Benny Bennet Jürgens and Carlo Ulbrich got to know R+V Versicherung at InsurLab Germany's general members' meeting. The insurer and the Hamburg-based start-up are both member companies of the Cologne-based initiative, InsurLab Germany. Just a few months after getting to know each other, the two announced at another joint InsurLab event that there would be a joint project. In September 2018, Nect and R+V went live together with what was then still known as the Selfie-Ident process, now Nect Ident. Through this partnership, the first step was taken towards a digital ecosystem to provide users with a new kind of user experience.
Good partnerships as well as a good network are two of many stones needed to pave the way to an established company. Opportunities fostered by initiatives like InsurLab Germany to help shape digital progress
In 2018, Nect began a joint journey with the Cologne Hub that is still bearing fruit four years later. From the first live walk, to participation in the Accelerator Programme 2019 in the Growth category, with strong support from mentors such as Dr Arne Barinka and Ideal-Versicherung, now Rheinland Versicherung, to membership of the Board through Carlo Ulbrich.
It is all the more important not only to be given the opportunity to be supported and promoted, but also to allow others to share their expertise and help shape the transformation of the industry. In this way, joint cooperations and opportunities between established insurance companies and start-ups can be promoted and co-designed. Something that was made possible by Carlo Ulbrich's inclusion on the board.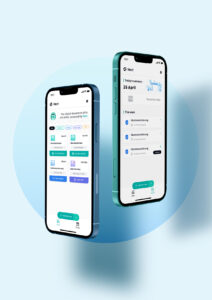 Together with InsurLab Germany, further success stories were written by Nect until May 2022, whether through strong partners such as Debeka or IBM, with whom the InsureNXT Innovators Award was jointly won for the first time. A digital health partnership to provide an e-health ID card for everyone.
Joint collaborations that could be created through a common partner like InsurLab.
Starting the journey with just an idea, as well as a vision, is a challenge that many young founders face. It is a fast-moving journey that can be compared to a race on the Nürburgring: trying to always be in the fast lane. Acquiring customers, growing the business, entering new markets, expanding, these are all phases and rounds that should not be underestimated, but with a strong team and partners, these phases can be mastered to face further challenges that you grow together. A racing driver is only as good as the team behind him, which keeps an eye on the technology.
A partner like InsurLab Germany offers young start-ups the opportunity for further development and access to an established industry where transformation is the focus. InsurLab Germany is a companion for the future.