Whether accident or illness, there are many reasons why a person suddenly can no longer make decisions. Relatives are then unprepared and confronted with a mountain of (bureaucratic) work. DeinePflege.de accompanies them in this emotionally stressful situation and provides long-term support with tips on all aspects of care organization. What many do not know however: In Germany, a health care proxy is indispensable to regulate matters for a person who is no longer legally competent. This can be conveniently created via Ninebarc, a platform for advance care planning and estate administration. In order to link the aspects of provision for the future and care organization in a legally secure yet effortless way, the two start-ups will be cooperating with each other from now on.
Support and advice in case of care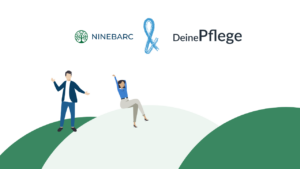 What a blow of fate: Suddenly, a loved one is in need of care. It is not uncommon for relatives to be overwhelmed by this situation – and in addition, many things suddenly have to be organized and applied for unexpectedly. With the digital care application, DeinePflege.de makes the bureaucracy easier for the relatives and stands by them in all questions of care organization in this emotionally stressful situation. However, the basis for this innovative support is a health care proxy. This is indispensable in Germany in order to be able to submit care applications for third parties, obtain information from doctors and physicians, and make all related decisions.
Create a health care proxy quickly and legally compliant – without a notary public
Only with a health care proxy can a person act on behalf of the person in need of care from the specified (or necessary) point in time. This is precisely where Ninebarc, the platform for advance care and estate planning, comes in. An easy-to-use virtual assistant helps to create the individual health care proxy conveniently from home and, above all, in a legally compliant manner. The cost-intensive visit to a notary or additional certification by a guardianship authority is no longer necessary.
Time for individual care instead of bureaucracy
"We offer relatives fast and unbureaucratic help. So they can use their time and energy for what really counts in life: Being together with their loved ones. In order to make everything as simple and unbureaucratic as possible, not only in the event of an emergency, but also in advance, we will be cooperating with Ninebarc from now on",
says Armando Statti, CEO of DeinePflege.de. And Cedric A. Horstmann, CEO of Ninebarc, adds:
"Knowing that everything is planned out provides a great relief. Once set up, you can concentrate on life and make adjustments easily at any time. For relatives, this has the positive effect that they are able to act in an emergency. The feeling that everything is being implemented 'in the best interests of the person concerned' is a great relief and provides space and time for individual care instead of bureaucracy."
The role of InsurLab Germany
In our membership and network, there are regularly innovative and inspiring success stories with start-up participation. But now there are two of our Accelerator startups cooperating with each other: Ninebarc is a Batch#21 alumnus and DeinePflege.de is part of our current Batch#22. Both companies have also found space in the portfolio of our investor partner VENPACE and have gained an intersection of strong mentors, such as Marnix Roes, Tizian Hoppen and Percy Wippler, to do so. So a partnership is obvious, especially since Ninebarc and DeinePflege.de complement each other perfectly..