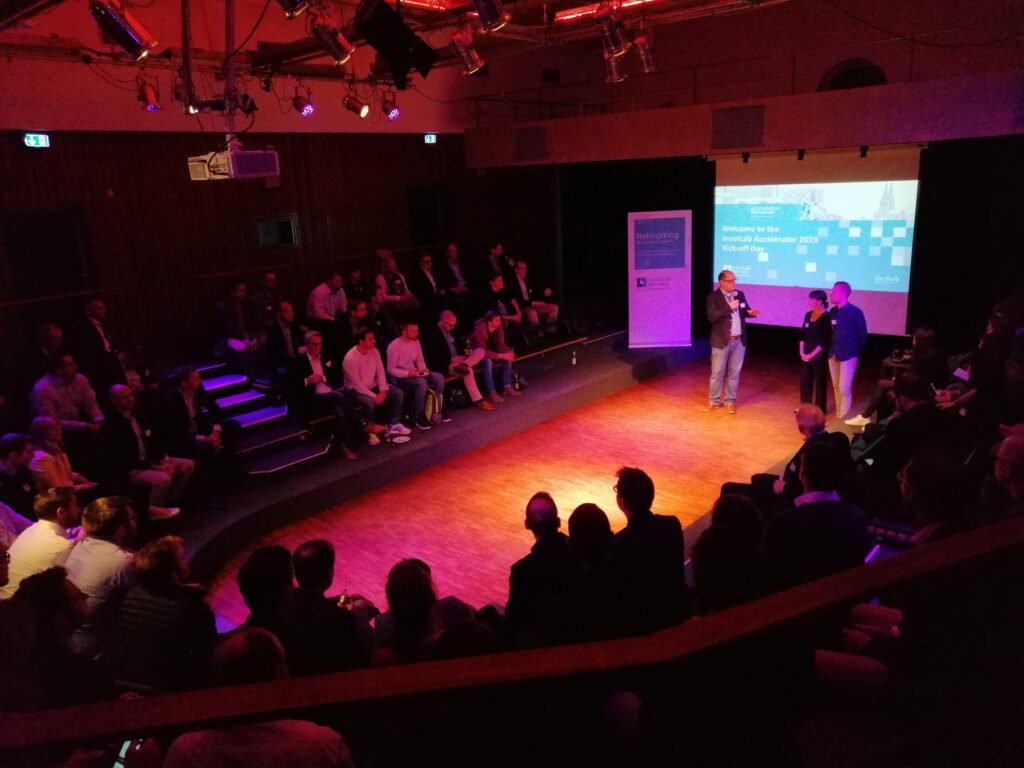 28. May 2019
Welcome to the InsurLab Germany Accelerator 2019 | Video Impressions
The InsurLab Germany Accelerator Program entered a new round! A total of 16 startups in two categories ("Start" & "Growth") were given the opportunity to work on their solutions and business models for six months together with representatives of our member companies, experts and the InsurLab Germany team (learn more about the participating startups here). SCOR and PBM - Personal Business Machine accompanied the first events of the program with their cameras. Moving insights into the start of the Accelerator Program 2019 (in German):
10 April 2019 – Selection Day at SCOR
On 10 April 2019, our member companies decided on the final startups of this year's round at Selection Day. A total of 25 promising Startups were selected from a large number of applications to pitch live in Cologne in front of representatives of our member companies. In only five minutes they had to convince the audience. Afterwards we went to a Kölsch pub and waited eagerly for the evaluation of the election. In the category "start" were selected: Docudiet, Luminovo, Perasoft, ReFit, Strokemark & Tiegoo. Part of "Growth" category are: AIMO Technologies, BanksAPI, BetterDoc, Contract.Fit, Docyet, e-bot7, Future of Voice, Kauz, nect and PBM.
____________________________________________________
16 May 2019 – Accelerator Kickoff
In mid-May, the Startups met their mentors for the first time. The official Accelerator Kickoff in Cologne brought together more than 60 main and specialist mentors to get to know the founders of the final Accelerator Startups. The Mentor Group 2019 consists of the top management of our member companies, technology and method experts. Each startup has two main mentors at its side for the next six months, who intensively take care of their development within the program. In addition, a large number of specialist mentors make their knowledge available in consultation hours and workshops.
_________________________________________________
17 May 2019 – Ideation Workshop with SOSA FinTLV
One day after the official Kickoff we started working: Our partners SOSA FinTLV came from Israel to lead the first workshop of this year's accelerator round. The founders discussed and worked on their business models and goals, and optimized their communication strategies for the German insurance industry.
____________________________________________________
22 May 2019 – Startup Pitches @InsurTech Week 2019
As part of this year's InsurTech Week, our Accelerator Startups were given the opportunity to pitch and introduce their companies to investors, insurers and other InsurTech Week participants. A jury of four, consisting of Thomas Knaack, Managing Director of Rotonda, Thorsten Reuter of NRW.Bank, Lukas Gräf, COO of STARTPLATZ & Sebastian Pitzler, Managing Director of InsurLab Germany, selected four startups as winners at the end of the evening: Nect, e-bot 7, BanksAPI & Luminovo. The winners each received an Apple Watch, sponsored by RheinLand Versicherung.
____________________________________________________
We look forward to many more sessions, networking events and the developments that the Startups will go through over the next six months!